MyFreeCams Token Adder
From Wiki.MyFreeCams.com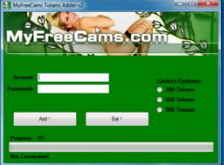 There are a number of websites where you can download software that calls itself a MyFreeCams Token Adder or MyFreeCams Token Generator.
This is an obvious example of Phishing. The fake software asks you to enter your Username and Password which is then sent to the software's designers, who then steal your account.
You can learn more about Free Tokens on our Wiki. Please remember never to share your Username and Password or enter your private information anywhere outside of MyFreeCams.com.