Flash
Adobe Flash Media Player is currently required to broadcast streams and watch streams on the desktop site of MyFreeCams.com.
Flash is being gradually phased out and we will be switching to newer forms of encoding and streaming.
We will post updates here that are important during the transition.
Chrome Web Browser
The Chrome Web Browser will be among the first to phase out the use of Flash. The information below will outline how you can set up your Chrome browser to allow Flash to run properly.
Recently, Google updated the stable version of Chrome to v71. From this version on, sites using Flash will need to be set to Allow each time the browser is restarted (there is no longer a workaround).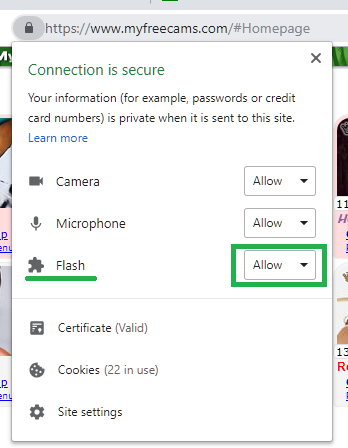 Go to www.myfreecams.com
Click the padlock that is on the left side of the site URL in the address bar.
To the right of Flash, click the dropdown box and choose the Allow option.
Reload the page and verify the Flash drop-down shows Allow.
Additional Tips
Google Support - Use or fix Flash audio & video: https://support.google.com/chrome/answer/6258784?hl=en